Welcome To Perthshire Canine Club Website
Perthshire Canine Club was founded in 1884.
We hope you enjoy your visit and find the contents useful and informative.
The Club holds two Open Shows per year as well as weekly Ringcraft Classes.
Our main aim is to provide a friendly atmosphere for people who share a common interest in dogs and dog showing.
This is the current guidance we are using  for Perthshire Canine Club Ringcraft, should it change you will all be first to know…..also we don't yet have a date for access back to Tulloch either.
Professional dog trainers
Professional dog trainers may offer commercial training, provided the guidance on physical distancing can be adhered to. This would include:
remaining at least 2 metres from the owners of dogs under training
practicing good hygiene at all times, with regular handwashing both before and after any contact
dogs being trained should be kept on a lead to avoid contact with other clients or their dogs
In an outdoor setting, dogs from 4 households may be trained together, and no more than 15 persons may participate in an outdoor training session.
In an indoor setting, dogs from no more than 2 households may be trained together at a time; and no more than 8 persons may participate in an indoor training session.
AGM Notice 2021
Please be informed that the Annual General Meeting of the Perthshire Canine Club will take place as a Zoom Annual General Meeting on 25th May 2021 at 8.45pm after our weekly "A Night in with…." session.
All nominations either by post or email for Office Bearers, Committee, and Items for inclusion on the agenda must be in the hands of the Secretary by 10th May 2021 and must be proposed and seconded by fully paid-up members of Perthshire Canine Club.
Please email admin@perthshirecanineclub.co.uk for the address should you wish to post nominations, or items for the agenda.
If you would like to attend the AGM and are not members yet for this year again please email admin@perthshirecanineclub.co.uk
An email has been sent to all members with regards to the above.
We are also holding an auction in May, to say thank you to two Charities that have supported us in our "A night in with ….." series. Please see the link to this auction https://www.facebook.com/Perthshire-Canine-Club-Auction… and support us.
Nights In With…
Sign up and join us for some more weekly fun nights in with guest speakers giving advice and answering questions in their specialist areas.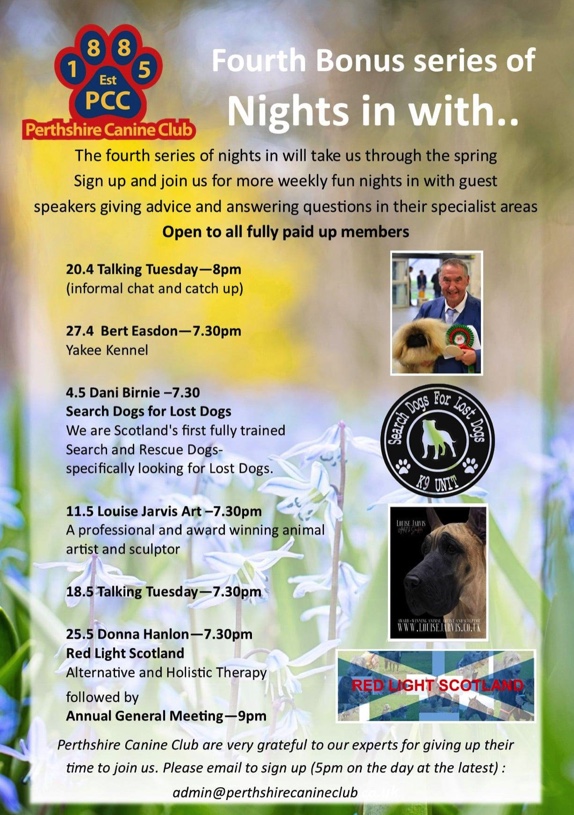 Ringcraft Classes
Ringcraft is held on a Tuesday evening starting at 7pm with the Puppy class and Saturday morning at 10.30am at Tulloch Institute to pre booked members only.
To pre book your place, please email admin@perthshirecanineclub.co.uk